Dit bier bevat kerstbomen.
Regular price
Sale price
€29,88
Unit price
per
Sale
Sold out

Botanically brewed Winter I.P.A. (5%) with reclaimed spruce needles and juniper berries. Nicely crisp with piney hoppy notes and an evergreen citrus kick.
<ul>
<li>Type: I.P.A. / seasonal beer</li>
<li>
<meta charset="utf-8">
Complements roasted vegetables and grilled poultry.
</li>
</ul>
Share
View full details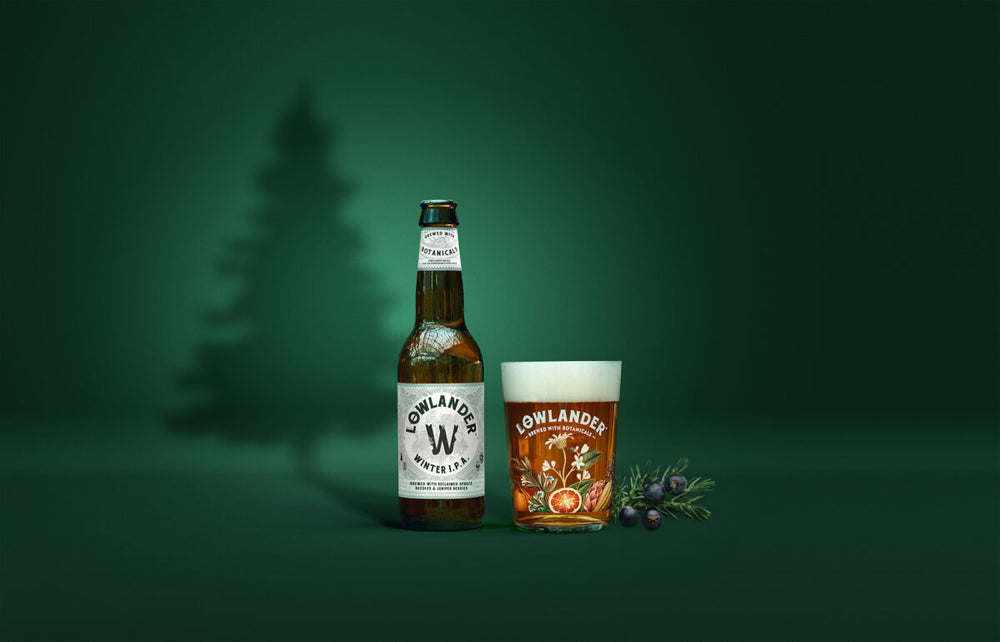 HOW DO YOU GET A SPRUCE FOREST IN A BOTTLE? ONE NEEDLE AT A TIME.
Every year millions of Christmas trees end up on the streets after the holidays, which is quite a waste. Both of the beautiful trees and their potential taste. And so we decided to brew this beer with hand-picked spruce needles from discarded Christmas trees and piney juniper berries. The result? A cool and crisp Winter I.P.A. with subtle citrus notes and a hoppy character, turning waste into taste.
Find the perfect beer & food pairing
WINTER SPICED SLOW ROAST RAGOUT WITH PAPPARDELLE

The evergreen citrus notes of the Lowlander Winter Ale pair perfectly with the wintery flavours of roasted root vegetables and grilled poultry.

TO RECIPE

LOWLANDER WINTER'S BREAKFAST

Winter's Breakfast is a beertail that gives you chills. Its refreshing with a bitter bite. Finished with our Winter I.P.A. brewed with spruce needles and juniper berries.



TO RECIPE