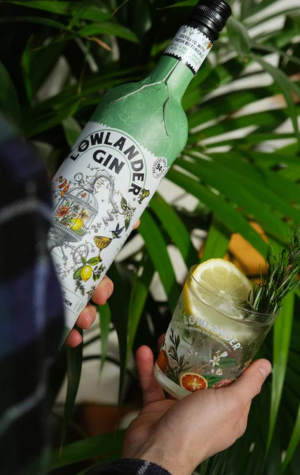 Lowlander Gin: the world's first nature positive botanical gin
Here in the Lowlands we're known for our ingenuity – especially when it comes to the natural world. It's what's made our agriculture so successful at doing more with less. That same ingenuity inspired us to distill a botanical gin that cuts the usual carbon emissions – for example by sourcing our botanicals from local, fully automated vertical farms, and by using this paperboard bottle that's just 20% the weight of glass and 100% recyclable too. Lowlander Gin is smooth and fresh, with fragrant notes of lime leaf, herbal spruce and rosemary, the earthy spiciness of cardamom leaf and an unmistakable tang. And you can enjoy it knowing it tastes good and does good too. Because each bottle of our botanical gin contributes to native tree planting – absorbing carbon and boosting biodiversity right here in the homeland of gin. So it's not just ingenious. It's gin-ious.
Shop now
Lowlander gin and its carbon footprint
Lowlander Gin is the first ever botanical gin made with fresh (not dried), local and circular botanicals from zero-waste urban vertical farms, along with rescued, recycled and revived ingredients. The lime and cardamom leaves are cuttings from Koppert Cress' innovative greenhouse horticulture, producing plant ingredients for chefs. The spruce needles come from discarded Christmas trees. The rosemary comes from the zero-waste vertical farm Growy Amsterdam and the citrus peels are residual flows rescued from bars and restaurants in collaboration with PeelPioneers.

These circular botanicals are distilled in organic wheat alcohol and bottled in an innovative cardboard bottle, made from 94% recycled material. The lightweight bottle itself is 100% recyclable and has a carbon footprint six times lower than a glass bottle. For every 1KG of CO2 emitted, we remove 2KG of atmospheric CO2 in return through donations to Trees for All. As partners of this non-profit organization, we support planting trees to enrich Bolivian Lowlands to sequester the same again and compensate twice as much as is being emitted, as well as planting native trees in Het Groene Woud, Brabant to improve local biodiversity.
1. PRESS TO SPLIT

2. SEPARATE PAPERBOARD & LINER

3. RECYCLE SEPARATELY
Is the Lowlander Gin bottle 100% recyclable?
Yes, when the cardboard outer shell is separated from the liner, the Lowlander gin bottle is 100% recyclable. The outer shell is made of 94% recycled paperboard and can easily be recycled again via paper/cardboard recycling. Because of the limited amount of aluminum used, the liner can also be recycled with mixed plastics (in some countries the liner may go in the general waste).

Which materials are used to produce the liner?
The liner is made of polypropylene (PP) with trace amounts of aluminum. Research and consulting is done with multiple film suppliers and plastic film recyclers to make sure that the amount of aluminum does not affect the recyclability of the product. This means that also the liner can be recycled, either together with mixed plastics or in some countries via the general waste.

Why is the carbon footprint of the paperboard bottle lower than the regular glass bottles?

Even though glass bottles are recyclable, their weight has a huge impact on the environment. Because of the lightweight bottle, the carbon footprint of the Lowlander Gin bottle is 85% lower than regular glass bottles. Next to that, the water footprint is at least 4 times lower than glass. And for the emissions we can't avoid (yet) we offset these via our partner Trees for all, supporting sustainable forestry projects in the Lowlands and abroad for a healthier climate.